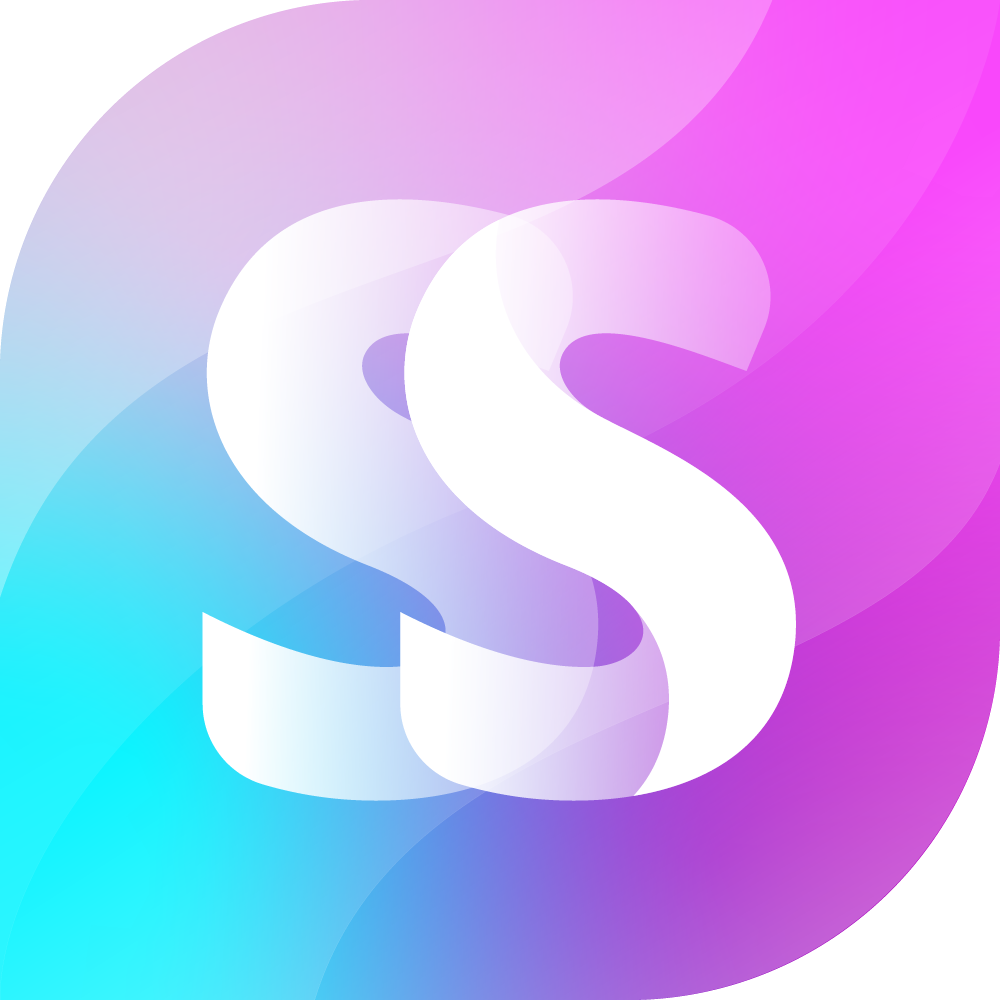 the
Seoul
Stars
governance
token
IDO presale coming May 27
The $SSTAR token presale is an exclusive offering to be an early holder of our governance token. The presale will be a whitelist event and only accessible to those who complete certain requirements or are a core part of select communities.
If you are whitelisted you will be able to purchase up to the $SSTAR token allocation you are eligible for; see the presale pass tiers and complete select requirements to increase the allocation size you are eligible for. There is no minimum purchase amount e.g. if you have a USD $500 allocation you can purchase any amount up to USD $500. The presale will take place on the Seoul Stars website and will be purchasable with USDC on the Solana network. We suggest using a phantom wallet, learn how to create one here.
$SSTAR will be sold at a price of $USD 0.05 not including discounts from whitelist tiers.
How to get whitelisted for the $SSTAR IDO
Step 1
Submit your Solana wallet that you want to be whitelisted in the Gleam form. You can complete the additional tasks to have the chance to win an NFT or presale pass upgrade. If the form does not load, click here.
Step 2
Read the presale pass tiers information below, decide which pass you want and complete a requirement to be eligible for the pass.
For example, by owning one Yuna NFT you will have a bronze IDO pass, meaning you are eligible to purchase up to $500 USD worth of $SSTAR tokens.
Step 3
Completed the form and a requirement? Sit back and wait for the IDO!
If you require help, ask in Discord
The $SSTAR presale will be whitelist only and is exclusive to Seoul Stars NFT holders and those that complete certain requirements.
Whitelist passes come in five tiers: Ruby, Diamond, Gold, Silver and Bronze. Token allocations and benefits increase with each respective tier and requirements. This is designed to reward those most passionate about Seoul Stars and our vision. Buy Seoul Stars NFTs on MagicEden.
Whitelist pass tiers and requirements: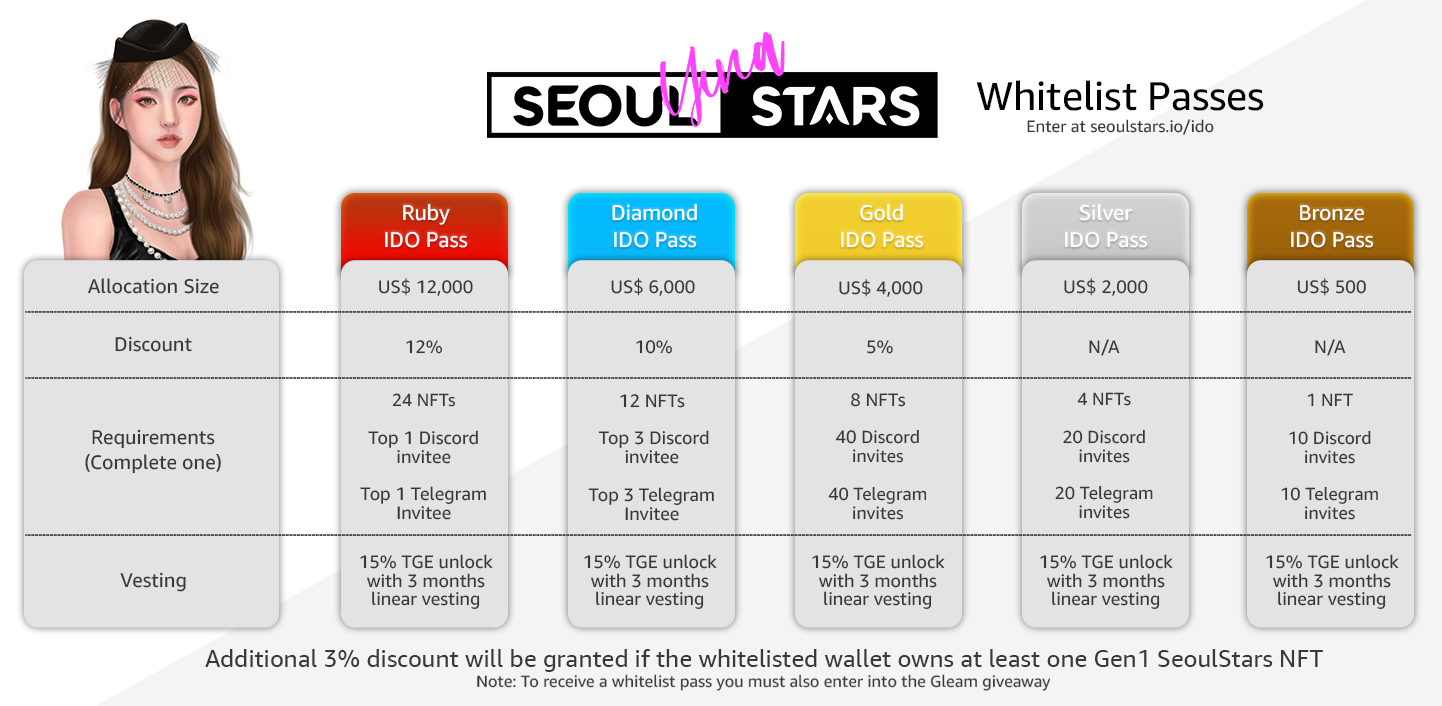 $SSTAR Tokenomics and Vesting
$SSTAR's tokenomics have been designed by a team of crypto experts to set a strong foundation for optimal token behaviour in both the development and release stages of the Seoul Stars play-to-earn game. The initial market cap is USD $50m and initial circulating supply restricted to USD $500k.
Presale purchases will be subject to 15% TGE unlock and a 3 month linear vest. This means that 15% of tokens will be claimable immediately and the remaining will be claimable over a 3 month period. Tokens will be claimable via a claim dashboard on the Seoul Stars website using the Solana wallet that they were purchased with.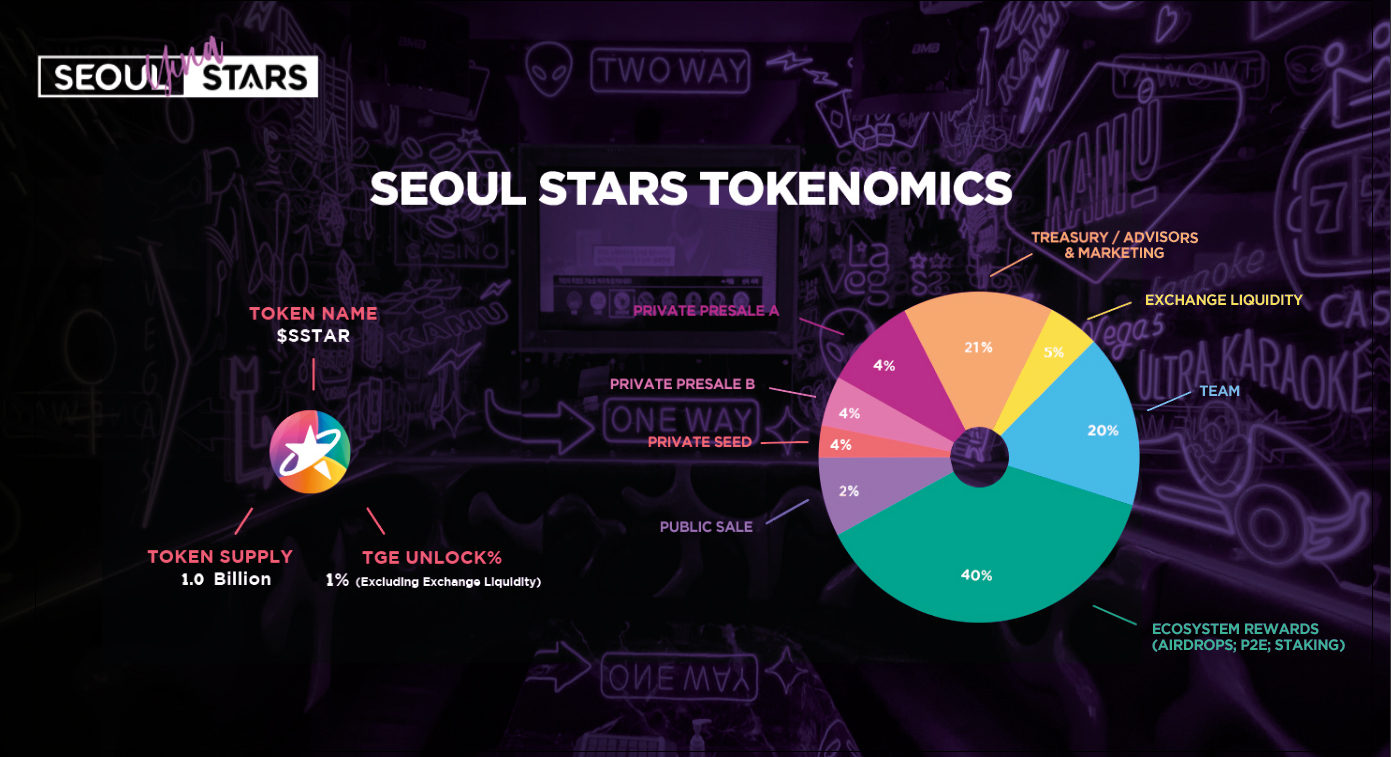 Join our vibrant communities of 75K+ members!